UPTIME_SENSE
Data Acquisition and Manipulation Module
UPTIME_SENSE serves as a modular data acquisition and manipulation component of the UPTIME Platform. The _SENSE component captures data from a high variety of sources and cloud environments. It can connect to both analogue and digital data sources via numerous protocols, acquire data from these heterogeneous data sources, and integrate them towards a configurable data set.
UPTIME_SENSE ARCHITECTURE
The UPTIME_SENSE is capable of storing and intelligently handling and filtering the data acquired and can provide it to other subsequent UPTIME components in the form of sensor data streams for further analysis and processing. It also brings configurable diagnosis capabilities on the edge, e.g. for real-time or off-the-grid applications.
The _SENSE component architecture consists of _SENSEcore and _SENSEnode. The _SENSEcore is one unit per monitored asset and consolidates all data from this asset. It allows for performing edge data analysis and state detection and forwards the information set to the UPTIME_CLOUD. The _SENSEnode(s) are a set of 1 to n units per asset monitoring the individual sections and parameters of the asset. Each node captures and pre-processes specific sensor data from the asset and forwards this dataset to the _SENSEcore unit.



KEY ADVANTAGES OF UPTIME_SENSE:
• Sensor and data consumer-agnostic hardware abstraction gateway
• Adaptive, flexible data collection and diagnosis tool chain
• Efficient stream data processing on the edge with cloud functionality
• Supports both fixed and mobile implementation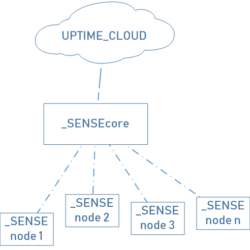 IMPLEMENTATION OF UPTIME_SENSE

The _SENSEcore and _SENSEnodes used for the FFT Business Case are being developed by BIBA together with FFT. The main focus has been on establishing a hardware basis for the sensor data acquisition from the individual assets. The _SENSEnode acquires data from the motion sensors (i.e. accelerometer, gyroscope, magnetometer), environment sensors (i.e. barometric pressure, humidity, light intensity, air temperature) at fixed sampling rate.
It is then processed on the sensor controller of the _SENSEnode to derive measurable physical quantities.Once data acquisition from the _SENSEnodes is complete, the forwarding of the data to the UPTIME_CLOUD is facilitated by the _SENSEcore. Afterwards, the sensor data along with device identification, sensor type and the measured physical quantity are batch uploaded to the UPTIME_CLOUD. Please feel free to contact us for more details about the deplyoment of the UPTIME_SENSE in your context.