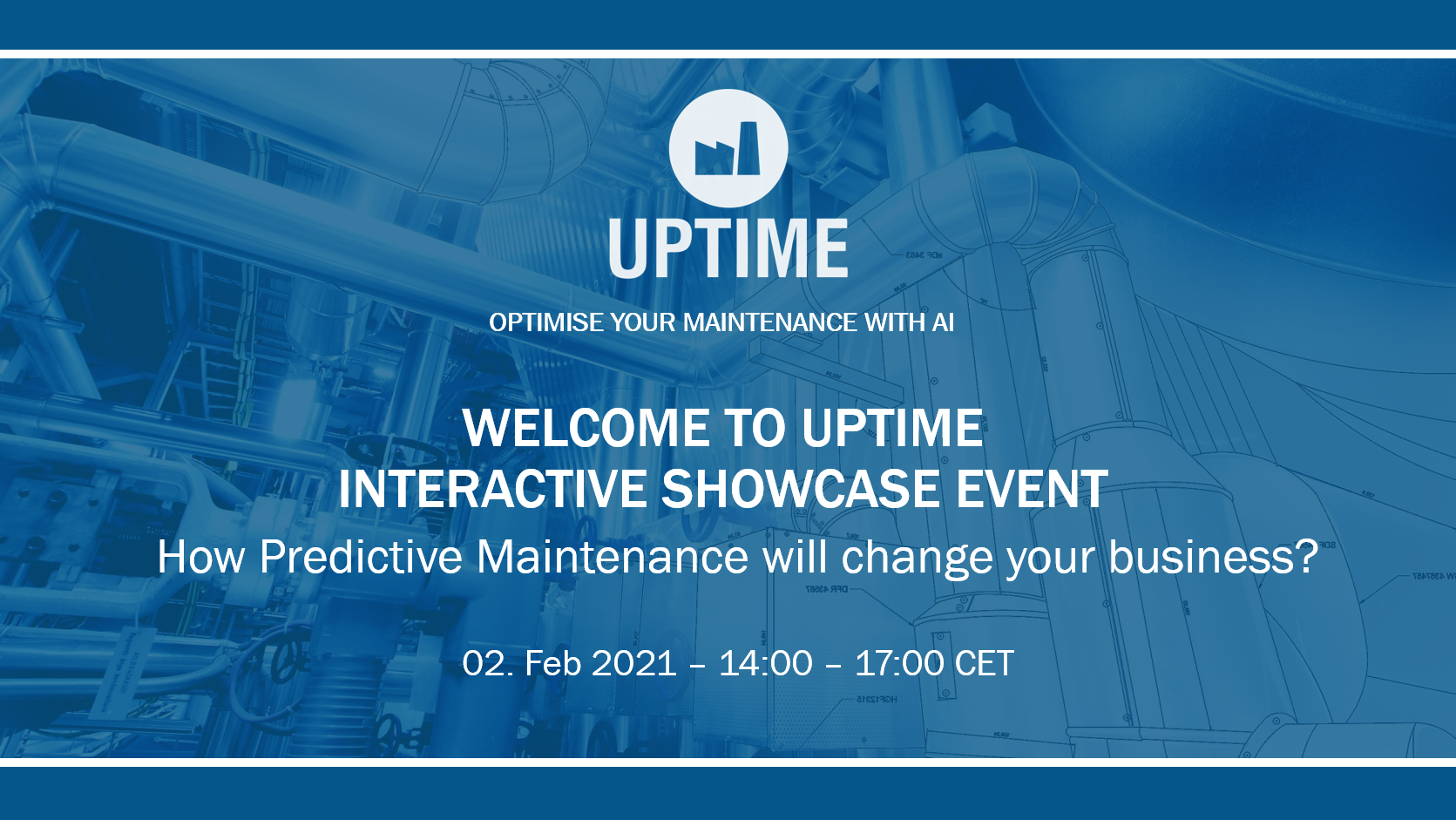 UPTIME virtual interactive event was held on 2nd February 2021 from 14:00 – 17:00 CET with focus on how predictive maintenance will change your business.
Advanced technologies, as IIOT and AI, will shape the future business in Industry. Predictive maintenance is a key domain to start with and implement Industrie 4.0 strategies.
UPTIME is a modular and flexible platform integrating components based on the most advanced technologies to implement predictive maintenance in your production systems. It operates successfully in 3 different industrial domains.
During this interactive event, the participants were  introduced to the UPTIME Platform Demo Space and had a chance to have open discussions with industries that have implemented UPTIME technologies. UPTIME end users have shared the participants the concrete benefits, the issues they have faced and their best practices.
We had fruitful conversations covering technical, economical and organisational impact of predictive maintenance and the participants may check with our experts the possible use of the UPTIME platform in their own context.
For any questions, please do not hesitat to contact us: community@uptime-h2020.eu.
Agenda
14:00   Welcome and Introduction
                  Dr.  Yves Keraron,  ISADEUS
                   Karl Hribernik, BIBA 
14:15   UPTIME Platform – A modular, adaptive and scalable platform
                  Dimitris Ntalaperas, UBITECH
14:35   Panel Discussion with UPTIME End-Users – Impact of predictive maintenance on maintenance organisation
                   Moderator: Karl Hribernik,  BIBA
                   Panellists:
                                (1) Jeroen Versteeg, FFT Produktionssyteme
                                (2) Pierluigi Petrali, Whirlpool Corporation
                                (3) Vasilis Boursinos, M.J Maillis
15:00  Open Space Technology Workshop
                   Facilitator: Isabelle Tanguy, ISADEUS
                   Session leader: BIBA, ICCS, SUITE5, RINA, PUMACY, UBITECH, MEWS, ISADEUS.
(1) Technical session:  demo and Q&A about the UPTIME technologies and the platform.
(2) Opportunity session:  sharing about your context, your data and how you can implement the UPTIME platform
16:50   Conclusion and way forward
                   Dr. Yves Keraron, ISADEUS
17:00   End of the event